Sniper Running Club - #teamconvoy
"ONE RUN CAN CHANGE YOUR DAY... MANY RUNS CAN CHANGE YOUR LIFE!" #HELLYEAH
Sniper #Teamconvoy Running Club is the latest edition to our weekly Sniper timetable.
#Teamconvoy 'runs' every Tuesday evening at 6pm in Scarborough and is available to ALL... both Sniper and non-Sniper recruits!
#Teamconvoys mission is to allow ALL levels of recruit to start, grow and maintain their running ability in order to achieve their own personal running goals, be it completing their first 5K, taking on an obstacle race, or smashing their first marathon!
Upon joining the ranks of #Teamconvoy our Drill Sergeants will speak with you to decide which level/intensity of run you would be best to participate in.These include:
- PRIVATE (beginner)
- CORPORAL (intermediate)
- SERGEANT (advanced).
We have three different formats of running operation available and which rotate weekly. These are:

- DISTANCE RUNS
- LACTATE RUNS
- TRAIL RUNS
All three formats of run will have all three levels of running ability provided for within each session plan!
Each running session will be structured like our original Sniper operations and will be available to see on our Facebook page 24-hours before hand… providing specific areas to meet, the designated route or routes, distances, front/back pace runners and goals!
All Convoy recruits will also be entered into our own #Teamconvoy Strava running group that provides full intel on the running route each session including, distance, incline, mapping and allows for time keeping and PR recording.
For all NEW convoy recruits their first run is FREE! Just simple enrol via the app and no payment will be asked for on the evening. #trybeforeyoubuy
After your FREE trial, for recruits that have already purchased a monthly bootcamp membership, Convoy sessions can be either purchased as one of your weekly entitlements or if you have no entitlements left or are simply not a Sniper recruit (yet!) classes will be charged at £1.00 on a 'book now pay later basis' (pay at class).

For both Sniper and non-Sniper recruits #Teamconvoy cool running tees are available to purchase for £9.99!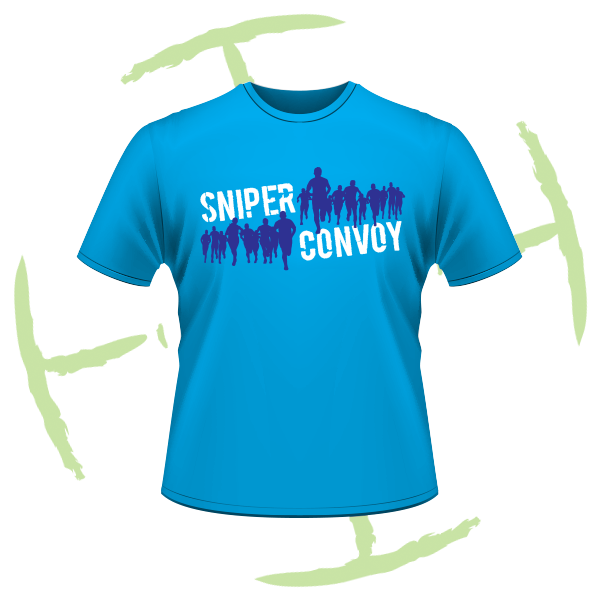 To reserve your place for each session, Sniper recruits can book via their normal desktop or app membership! Non-sniper recruits please use the following link to download our FREE app (Mindbody - CLICK HERE), then simply search SNIPER FITNESS in your location and book onto the session.
Remember, this class is 'pay as you go' and therefore no enrolment details are required from non-Sniper recruits in order to take part.
Alternatively, for more intel please contact Drill Sergeant Chris either via email or telephone on 07837959393.