Sand, Sea & Surf
ATTENTION RECRUITS! Your wave is waiting for you on Sniper – SAND, SEA & SURF bootcamps! Definitely prepare to "fall 7 times, get up 8" with the craziest bootcamp...EVER!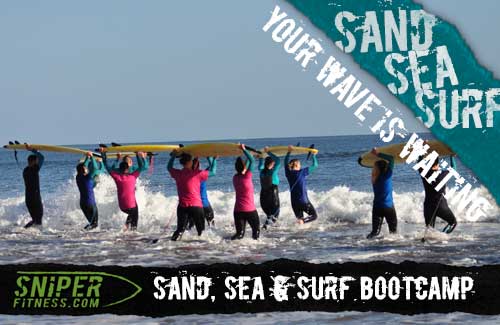 Sniper Sand, Sea & Surf is a Bootcamp format that is unlike anything else we run! It is a one-day Bootcamp, for 1–hour 30-minutes, and is for those recruits that want… sorry NEED… the intensity of a normal Sniper Bootcamp (outdoor group exercise in a military style format which includes body weight exercises, sprints, plyometrics and interval training), with the unknown elements that only Mother Nature and the sea can provide.
This Bootcamp will not only leave you aching in places you did not know existed, but is the most fun you can have with your clothes on (quote from test subject Nina Shaw, 2014) and will leave you feeling amazing… recruits… if you need to de-stress, unwind and basically get away from the daily grind this is for you!
Sniper - Sand, Sea & Surf is perfect for any fitness level and especially those individuals with joint and soft tissue issues, as the water and sand provide much lower impact than that of a normal Bootcamp, whilst still providing enough exercise intensity for you to hit your fitness goals.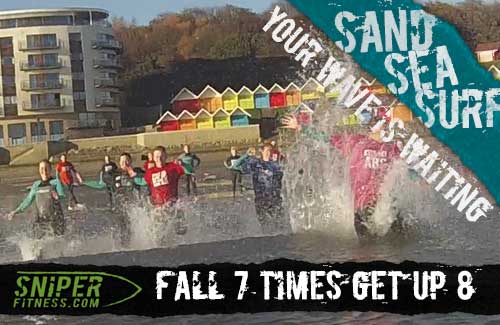 Do I Need To Be A Great Swimmer or Surfer?
Simple answer… NO! When in the sea we work for 90% of the time from knee and up to around waist/chest height and swimming is kept to a minimum as it is all about incorporating the board into the exercises.
Being a surfer may help, but the exercises we perform are unique to Sniper… so as long as you're not afraid of getting your head wet, this is for you!
What Do I Need To Bring?
A towel, swimming costume, shower gel, water bottle and an "I will give anything a go" attitude! Other than that we at Sniper Fitness Bootcamps provide all other equipment as part of the package… board hire and wet suit, along with shower facilities and changing rooms are all included!
Why give Sniper – Sand, Sea & Surf a go?
1. Weight loss, muscular strength and endurance.
2. Improved cardiovascular fitness.
3. Amazing for the core and abdominal region.
4. Low impact which is great on the joint and perfect for exercise rehabilitation.
5. The most fun you can have with your clothes on!
6. For once you will be cleaner and fresher than when you started exercising.
7. Most importantly… a unique experience provided in part from Mother Nature herself.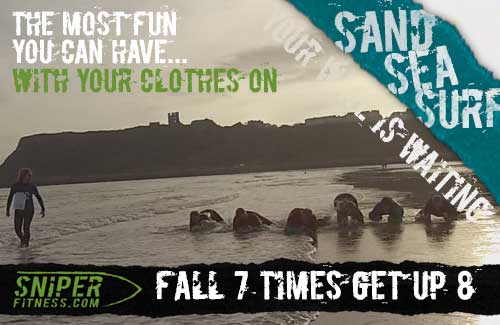 When and where does Sniper – Sand, Sea and Surf take place?
Saturday mornings at 8.30am, for 1-hour 30-minutes, meeting at Dexters Surf shop (
www.dexterssurfshop.com
for address details). As the format of Sniper Bootcamp is run intermittently, please see our
Facebook page
or
contact
ourselves directly for the next available date. Each session has a maximum of
ONLY 15 places
and is booked on a first come, first served basis. To reserve your place on the next Sniper Sand, Sea and Surf we therefore do require payment in full!
Costs and other information
The cost of each 1-hour 30-minute Sniper – Sand Sea & Surf Bootcamp session is £12.00, this includes everything… board, wet suit, changing facilities, shower facilities and the Bootcamp itself! Minimum age to attend is 16 years old. Please provide payment in cash to your Drill Sergeant.

If the tidal and/or weather forecast is such that entering the sea is not an option on the given day, your funds will be moved onto the next available Saturday session.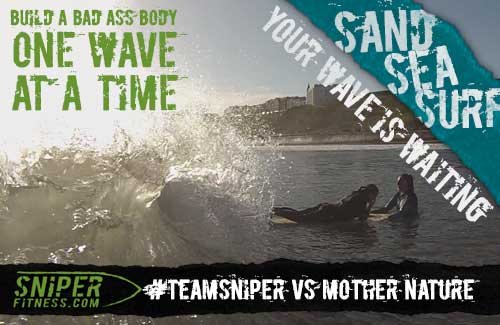 BONUS! As an extra bonus, as Sniper Fitness Bootcamps are now affiliated to Dexters Surf Shop, anyone that partakes in a Sniper – Sand, Sea & Surf Bootcamp automatically receives a better than half price discount on any 2-hour group surf lesson (minimum of 5 people) that includes board and suit hire.

Normal price £32.00… but as a Sniper affiliate you receive the 2-hour lesson for only £15.00!
WHAT ARE YOU WAITING FOR? YOUR WAVE IS WAITING FOR YOU!
#weleadsootherscanfollow
Last word, a massive thank you to the team at Dexters Surf Shop for their support in this new venture!
www.dexterssurfshop.com