Sniper bootcamps | one life - one shot
ABOUT BOOTCAMPS
Aim to look, feel and be the best with Sniper Bootcamps! The only Bootcamps where average is not an option and success is guaranteed.

Sniper Bootcamps are based upon performing three Military inspired sessions each week for 1-hour starting either at 6am, 10am or at 6pm for 1-month (a total of 12-sessions). Whether you are male or female, young (16 yrs+) or old, fit or not as fit as you like, Sniper Bootcamps are perfect for you to achieve your fitness aspirations!
For the dates and times of our next available Bootcamps in your area or to enrol please click here. Please note, three Bootcamps per week is what we suggest as the perfect balance of work, recovery... and results! However, if due to work or personal reasons, less than 3-sessions per week needs to be performed, that is at the recruit's own discretion!
Become part of #Teamsniper and gain motivation, focus and support from our online and social media army of like minded individuals, who all inspire, help and educate each other to transform their lifestyles for the better.
ATTENTION RECRUIT! Choose from a choice of SIX different bootcamp options (just click on image to read more about each Bootcamp):
WHAT IS INCLUDED WITH #TEAMSNIPER:
3 motivational, goal set, kick arse sessions a weekfor 1-month
FREE Sniper "Battle Cry" T-shirt
FREE Sniper nutritional Ammo Pack
Fully qualified and insured Drill Sergeants
Creative, enjoyable and challenging sessions


Pre and post Bootcamp body composition measurements (weight and circumferences - this is NOT compulsory and is the recruits choice!)


Monthly online support, motivation and advice


Pre and post Bootcamp fitness test, including monthly Top Sniper awards and refreshments... we buy!
Become part of #Teamsniper for life and be driven by an army of like minded individuals all with the same mission; to transform their lifestyles and become the best they can be.


#SNIPERBENEFITS- A 5% discount on all initial consultations with Neil Corcoran Osteopathy for recruits taking part on a Sniper Bootcamp.
Most importantly... REAL RESULTS FOR YOU!!!
(Average weight loss per recruit is 5lbs in 12-sessions, with our highest recorded weight loss being over 2-stone in the 12-sessions).

"There is strength in numbers and together we will hit every target we set ourselves."
ATTENTION RECRUIT...ENROL NOW!
PRICE - Our bootcamp prices are the BEST, with a monthly (12-sessions), 3 times a week package from ONLY £50.00 (that equates to only £4.16 per session), which also includes:
FREE "Battle Cry" T-shirt
FREE nutritional advice Ammo Pack
PLUS online support & information
#TEAMSNIPER TESTIMONIALS - Simply set your sights on what you want to achieve and we will make sure you hit your target every time. Don't just take our word for it... set your sights on our Sniper Testimonials and read or watch what our recruits have to say about Sniper Bootcamps CLICK HERE!
REAL SNIPER RECRUIT RESULTS - Still not 100% sure? OK... get ready to be "blown away" with our Sniper Recruits Results and see what our actual recruits have achieved physically over ONLY 12 sessions with the help, support and focus of #Teamsniper CLICK HERE!
You ONLY get "ONE LIFE, ONE SHOT"... make it count!
ENLIST TO A SNIPER BOOTCAMP NOW! CLICK HERE
SNIPER ENROL PROCEDURE – To enrol to any Sniper Bootcamp it is quick and easy. Just follow these simple steps:
1. To enrol either click the red links on this page or from the home bar at the top, go to BOOTCAMPS then ENLIST TO A BOOTCAMP.
2. Next choose your choice/destination/time of bootcamp from the lists provided. Each bootcamp states its own start and finish dates, the time at which it starts and the meeting area for all bootcamps.
3. When you have made your choice simple press the GREEN ENLIST button.
4. Unless previously complete, in order to enlist to a bootcamp you must have your own login details for Sniperfitness.com. If you have not, the site will ask you to enter new login details first to create your own FREE sniper account. This is necessary in order to provide your FREE Sniper editable nutritional AMMO pack.
5. Once your account has been created you can then simply enrol onto the Sniper bootcamp of your choice by filling in the online form.
6. PLEASE NOTE, PAYPAL IS OUR PAYMENT PROVIDER. YOU DO NOT NEED A PAYPAL ACCOUNT TO PURCHASE. JUST SELECT PAY WITH CREDIT / DEBIT CARD ON THE PAYPAL PAGE.
7. Once payment is made you will receive email confirmation of your purchase.
8. A Drill Sergeant will then be in touch via telephone no later than 1-week from the start of the bootcamp to arrange a convenient one-to-one meeting where any and all questions can be answered and all measurements and weights are taken in confidence.
9. Finally, the real work begins and you meet your fellow #teamsniper recruits both new and old at the pre-arranged meeting area #hellyeah.
ENLIST TO A SNIPER BOOTCAMP NOW! CLICK HERE
CLOTHING RANKS
Each recruit of #Teamsniper receives a FREE Sniper T-shirt EVERY TIME they enrol on to a new bootcamp. For every Bootcamp the recruit takes part in a new T-shirt will be provided for FREE with a different colour and motivational "Battle Cry!"
Simply, the more Sniper Bootcamps you complete the higher your rank in #Teamsniper. Our ranking system not only allows for our Sniper Drill Sergeants to easily identify the level of fitness and achievement of each recruit, but for the recruit, the T-shirt is worn as a badge of honour, to show others what they have achieved and how far they have come within #Teamsniper.
Want to know more about why and how our Sniper "Battle Cries" will help you achieve and hit your targets... to keep you focused on the battle field? CLICK HERE for more details.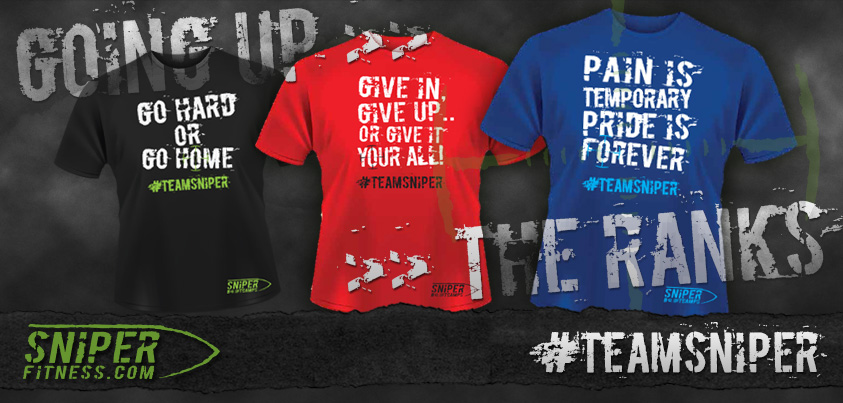 OPERATIONS?
Each bootcamp is made up of 12 sessions, aka, Sniper Operations. The 1st and 12th Operations are our Fit Test, whilst the other 10 sessions are dedicated to "transforming" both your body and mind set!
FIT TEST
These are the ONLY Operations where we allow you as an individual to go it alone... it is YOU v's YOU!
To begin your fitness journey it is vital that BOTH you and your Drill Sergeants know what your current fitness level is. The Fit Test is your chance to prove something to yourself... walk it, run it, sprint it... it is up to you... all we ask you to do is provide an honest assessment of your own fitness abilities which will strengthen your mind set for future Operations.
PLEASE NOTE: The Fit Test along with the measurements and weighing are NOT compulsory and if you just want to perform the Fit Test as another workout this is at each recruit's discretion!
It is worth noting that every single recruit of #Teamsniper has so far "blown" their original Fit Test time away on their 2nd attempt. Remember...
Fitness is NOT about being better than someone else... it's about being better than YOU used to be!
Please note: AM Bootcamps that fall on a Monday, Wednesday and Friday, due to the limited time available on the Fit Test day (Friday) due to recruit work commitments, all recruits will be given the option of either a 6pm Friday, or a 7am Saturday, Fit Test time!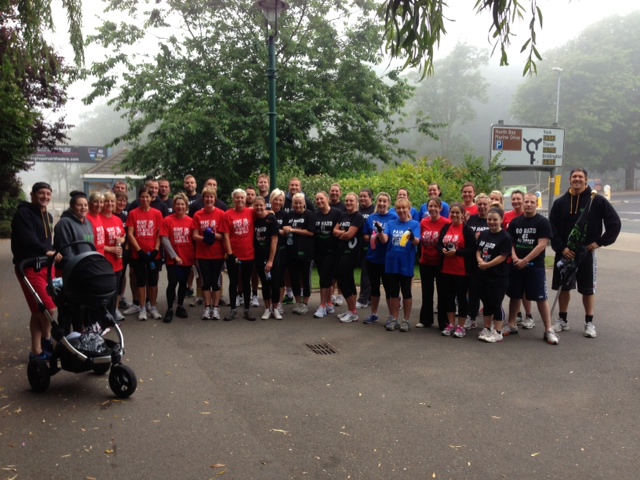 To see more images of our Bootcamps in operation CLICK HERE.
OTHER OPERATIONS
Once the Fit Test is over the real Sniper Bootcamp Operations begin. Each Operation is different and pushes both your mind and body to change and adapt.
Operations use a mixture of mainly body weight or few apparatus based exercises which incorporate the variables of time and speed to provide different levels of exercise intensity.
As these Operations are based in the outdoors we look towards using the enviornment itself to provide a platform to perform our Operations over... hills, banks, walls, bars, benches, sand, grass, steps, slopes... all are utilsed at some point to create a diverse and creative Operation.
Whats more, because we do not use apparatus based exercise (lets leave that to the gyms) and utilise what nature has provided for free, ALL our Operations can be taken away and performed by you on your own if you so wish in the future. Remember...
Commitment means staying loyal to what you said you were going to do long after the mood you said it in has left you.
WHAT IS A SNIPER AMMO PACK?
Once you have enrolled onto #Teamsniper you will next be contacted by a Sniper Drill Sergeant to book a convenient time (15-mins) for your own 1-to-1 prior to the start of the bootcamp.

At your 1-to-1 all questions or queries will be answered and further intel about the bootcamps provided.

A number of basic measurements will be asked to be taken at your 1-to-1 including, height, weight, circumferences and activity levels in order to allow us to present (emailed in this case) you your own Sniper Ammo Pack! Please note, that if you wish that measurements were NOT be taken, then we are happy to oblige.

How often do you start a diet or a new eating plan without actually understanding WHY it will help you lose weight?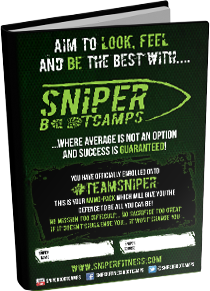 Well not any more, the Sniper Ammo Pack will give you information as to why our diet advice will work. If followed through correctly, and by using your own Calorie Calculation it will be easy for you to pick which meal choices are going to get you to your target.
No recruit goes into battle without the right rations to fuel their fight. "Eat Clean, Train Dirty"... use your FREE Ammo Pack and aim to look, feel and be the best with Sniper Bootcamps!
STAY FOCUSED STAY SOCIAL!
Follow Sniper Fitness Bootcamps on either our Facebook and Twitter pages and share intel and encourage other recruits to help them hit their own fitness targets.
Inspire and teach one another from personal experiences on the battle field. There is strength in numbers and together we will hit every target we set ourselves... be part of #Teamsniper.
FAQs
FAQ 1 - after i enrol for a Sniper Bootcamp what happens next?
Once you have completed our enrolment form either online or in person and have made payment your place is reserved and you have officially become a member of #Teamsniper.
Please note, that until payment is received your place is not guaranteed and places have been filled in as little as 4-hours after becoming available. So taking advantage of our monthly auto payments for future Sniper bootcamps is recommended.
After enrolling you will receive a welcome email/text confirming your place on #Teamsniper. You will then be able to book your choice of Sniper session via desk-top, tablet or using our mobile app.
IMPORTANT: Our 24-hour booking policy means that if a class is scheduled to begin within 24-hours, that class is locked and no one else can book on or cancel at that point.
For new recruits, a Sniper Drill Sergeant will contact you with in 24-hours to book your initial one-to-one appointment and provide you with your Sniper "Battle Cry" T-shirt and explain the Ammo pack in detail.
This is be your opportunity to "de-brief" us on any aspect or question relating to performing the a Sniper outdoor bootcamp or HQ 300 session that you are unsure about or would like more intel regarding (all information provided is confidential).
The rest as they say... is up to you!
"Fitness is NOT about being better than someone else... it's about being better than you used to be!"
FAQ 2 - what do i need to wear and bring for each Sniper Bootcamp?
The first thing you need to bring is your #Teamsniper attitude and to give it 100% focus and to hit every target that you set for yourself!
After that, good appropriate footwear/trainers, a water bottle, water proofs and gloves (if outside), a small hand towel (if at HQ 300) and of course be wearing your FREE Sniper "Battle Cry" T-shirt to get you inspired, motivated and focused... ready for battle!
"You only get ONE LIFE, ONE SHOT... make it count!"
FAQ 3 - What is invloved in a typical Sniper Bootcamp Operation?
Every Sniper operation be it a bootcamp or in our HQ 300 facility is based around 3 distinct phases - the warm-up, the high intensity Sniper operation and finally the cool-down. Together these these 3 phases take 1-hour to complete.
Each operation is structured and you will be educated and guided on the correct performance of each exercise, which will allow you to perform the provided operation correctly with maximum intent. Form comes first... speed comes later!
Every operation is different in terms of exercise duration, speed and time under tension and therefore keeps the body guessing and adapting to the new stimulus provide... we never perform the same exact operation twice and at present we have over 1000+ operations to choose from. Simply put... change is good!
"Your body will only change... if you give it reason to do so!"
FAQ 4 - what happens if i cannot make a bootcamp that I have booked?
Remember, our online service allows you UNLIMITED use of all our Sniper operations each week. Choose the day and time of your operations via desk-top, tablet or our Mindbody mobile app and we will provide reminders by email/text of when those classes are on.
Our 24-hour booking policy means that if a class is scheduled to begin within 24-hours, that class is locked and no one else can book on or cancel at that point.
Once a class is locked, if you are unable to make that class we simply ask that you are courteous to your Sniper team mates and 'LATE CANCEL' the class via your mobile app.
By late cancelling the class you will inform the Drill Sergeant that you cannot make it. This means the rest of the group will not be waiting around for you to arrive late and recruits on our waiting list can be informed in good time that a space is now available.
If however, you require to cancel your class and it is outside our 24-hour policy (cancelling can be done either via your app, desktop or text service) then your name will be removed from the class prior to it starting.
IMPORTANT: If a recruit continually books classes and either does not show or continually cancels, so taking a place that could of been provided to another recruit. Then that recruit's unlimited membership will be revoked.
"Think a 60 minute Bootcamp won't do anything? Well it's sure as hell better than a 0 minute Bootcamp - Strive for progress not perfection!"
FAQ 5 - Do I need to be fit to perform a Sniper Bootcamp?
Simply put NO.. not at all! Sniper Bootcamps are suitable for ALL fitness levels, from complete beginners to professional athletes, both male and females and young or not as young as you would like to be!
All our Sniper workouts aka 'operations' are designed to allow YOU to perform to your ability at the time... you choose how hard you work! Remember we Drill Sergeants can only motivate and give you the knowledge of how to perform... the rest... the work... comes down to YOU!
Sniper bootcamps are designed so that there is no fastest or slowest, strongest or weakest... the only competition is with YOURSELF!
"The difference between who you are and who you want to be is WHAT YOU DO!"